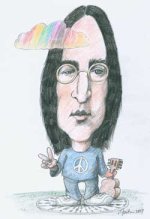 WHO IS THIS FAMOUS SINGER?
Here there are some of his great sentences for the peace.
Love is the answer, and you know that for sure; Love is a flower, you've got to let it grow.
If everyone demanded peace instead of another television set, then there'd be peace.

All we are saying is give peace a chance.

I don't believe in killing whatever the reason!
Love and peace are eternal.

All you need is love.