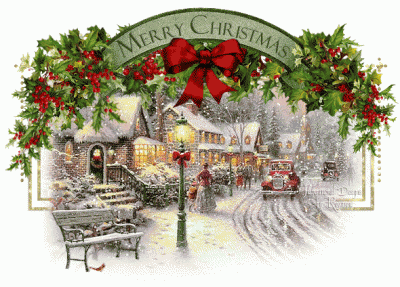 The word Christmas comes from the Old English 'Cristes Mæsse' ~ meaning the 'mass of Christ' as it commemorates the birth of Jesus Christ. The first official celebrations took place in 336 after Emperor Constantine had declared Christianity the empire's favoured religion. The festivals often begin at the beginning of December and continue until 6th January or Epiphany with the arrival of the Magi (Three Wise Men or Three Kings).

In the weeks leading up to Christmas, many people decorate their houses. They send Christmas cards and children write a letter for Father Christmas letting him know which presents they would like. It is typical to have a Christmas Tree and many children have advent calendars, which they open each day until the 24th: Christmas Eve. That night, Father Christmas uses his reindeer-drawn sleigh to visit each house and deliver the presents down the chimney. Some children hang stockings by the fireplace or at the end of the bed but often Father Christmas leaves the presents under the Christmas tree.

On Christmas Day, people open their presents. Families get together to eat. Traditionally, they eat roast turkey followed by Christmas pudding. They pull crackers, which open with a bang and contain a joke, a paper crown and a small present.

The day after Christmas is Boxing Day.This word comes from a custom from the Middle Ages: churches would open boxes in which people had placed gifts of money and distribute the contents to poor people in the neighbourhood.
And now something as sweet as a peaceful Christmas time...

Christmas is associated with giving, so why not make some truffles which they can use as gifts??

You will need:
• 500g sponge cake
• 25g drinking chocolate (powder)
• 50g ground almonds
• orange juice
• vermicelli or more drinking chocolate
• mixing bowl
• fork
• greaseproof paper
Instructions:
1. Put the sponge cake into the mixing bowl and crumble it. You can use the fork or your fingers.
2. Add the drinking chocolate and ground almonds. Mix together.
3. Add the orange juice little by little, mixing until you have the right consistency (firm but malleable – similar to play-doh). Ideally (but not essentially), cool the mixture at this stage.
4. Get a square of greaseproof paper and a portion of the mix. Roll the mixture into bite-sized balls.
5. Roll the truffle in the vermicelli or drinking chocolate.
6. Enjoy eating them and sharing them with your friends.

Note: Remember you can only work in the kitchen when there is an adult nearby.