Which part of your body lets you read the back of a cereal box, check out a rainbow, and see a softball heading your way? Which part lets you cry when you're sad and makes tears to protect itself? Which part has muscles that adjust to let you focus on things that are close up or far away? If you guessed the eye, you're right!
Your eyes are at work from the moment you wake up to the moment you close them to go to sleep. They take in tons of information about the world around you — shapes, colors, movements, and more. Then they send the information to your brain for processing so the brain knows what's going on outside of your body.
You can see that the eye's pretty amazing. So, come on — let's take a tour of its many parts.
The Parts of the Eye
You can check out different parts of the eye by looking at your own eye in the mirror or by looking at (but not touching) a friend's eye. Some of the eye's parts are easy to see, so most friends will say OK. Most friends won't say OK if you ask to see their liver!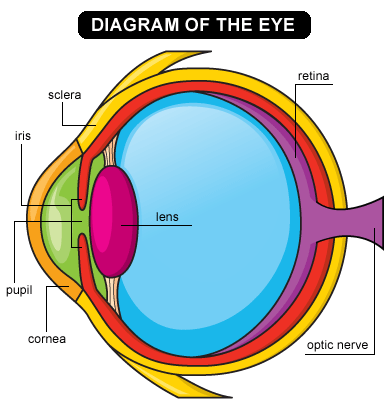 More information